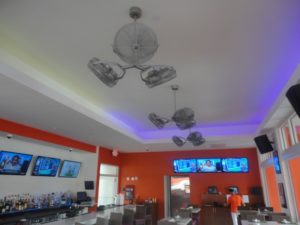 Replace your ineffective standard ceiling fan with our TRI-MIST ceiling fans. These fans will provide greater cooling to your outside porch, lanai , terrace, cabana or tiki hut.
The TRI-MIST fan can be used with or without mist and they can lower temperatures by up to 20 degrees ambient, thus providing a cool, dry and safe environment during summers oppressive heat indexes. The TRI-MIST ceiling fan comes in a variety of colors (Black, Brown white and tan) and will blend into any décor or motif.
Installation is similar to any standard ceiling fan mount and when operating will distribute air to a much larger area. A TRI-MIST fan will create over 3600 cfm. This not only creates more cooling airflow, but when on acts as an abatement to flying insects.
The TRI-MIST ceiling fans are outdoor rated with sealed motors and can be used in either residential or commercial outdoor applications. Light kits available.