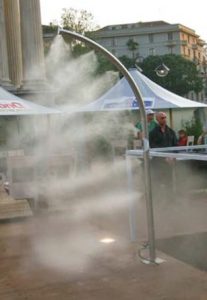 Constructed using 316 stainless steel framing, they are designed to withstand any outdoor environment and comes in a variety of shade colors.
Unlike any stand-alone shade umbrella, Liquid Shade has an integrated high-pressure mist cooling system built into its construction and can lower ambient temperatures by up to 20 degrees.
Liquid Shade Mist Umbrellas are available in three distinct shade configurations. Our LEAF model is sized for the individual lounge chair providing both privacy shade and mist cooling. While our MANA-RAY models can be purchased in either a 2-person 72" wide or 3-person 96" wide shade configurations. We also have Mist Totems that can provide mist cooling with no shadestructure.
There are three types of installations available; in-ground, surface mount or portable mounts.