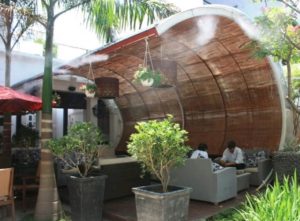 The Misting Store  team has developed a product line especially designed for hospitality and residential cabana's. Our Cabana-Coolture line will exceed your guests and families expectations of their cabana experience, we offer the most expansive array of outdoor cooling comfort systems designed to turn any pool, beach or rooftop cabana into a tropical oasis.
Our design team can provide an outdoor cooling system that is non-intrusive and can blend into any décor or motif. With our innovative designs and applications, we can tailor a system to meet your specific comfort levels and price to meet your budget.
Our Cabana-Coolture designs can transform any cabana into a chic, inviting and revenue generating  environment  We can work with your designer, builder or architect to insure that each project is properly installed and ready to use.