Welcome to The Misting Store, a full service company offering open-air and outdoor cooling designs, misting products and in-house installation services. We carry the most comprehensive array of misting products accessories anywhere our products have been field tested, are rated for outdoor applications and can be adapted to any climate. Our mist systems can be integrated into any open-air or outside environment large or small.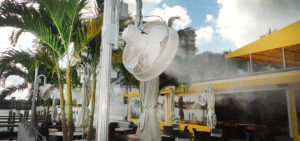 Whether a residential backyard deck, restaurant's patio, industrial warehouse, equine facility or outdoor sports venue, The Misting Store will endeavor to establish the best possible cooling results at the most effective cost levels.
Why select The Misting Store for all of your outdoor and open-air cooling needs? EXPERIENCE and EXPERTISE! Our company's mission is to our clients design consultation, product selection and technical advice.
The Misting Store also offers installation services…Our design and installation team can provide complete turn-key outdoor cooling systems tailored to meet your specific needs and budget. Our in-house cooling experts can design a cooling system that can transform any hot and humid environment into a cool, dry and safe comfort zone. By applying our evaporative cooling technology we can reduce ambient temperatures up to 25 degrees ambient.
Our Misting systems experts can integrate any open-air or outdoor cooling systems in a variety of venues, and are products can be seamlessly be installed into any décor or motif.
Please browse our application gallery and products page to see the many diverse outdoor cooling and open-air cooling applications available.